In addition to our regular gallery hours and class schedule, we also offer special events, one-time art experiences, private clay lessons, and annual art shows.
One-Time Creative Sessions
If you are looking for a one-time art experience in our studio or on our art deck, visit our companion website funatthehand.com for a complete listing. Some options include one-on one lessons,  group lessons, Date Night, Teen Night, clay workshops, throwing on the wheel, birthday parties, and much more.
Paint your own one-of-a-kind pottery, ongoing on our beautiful outdoor Art Deck. Choose from a variety of handmade bisque, decorate to your hearts content, and pick up a finished and functional work of art in about a week. Call during business hours to reserve a time or for more details. Mondays, Wednesdays, Fridays, and Saturdays, 11 am – 1 pm, $25/piece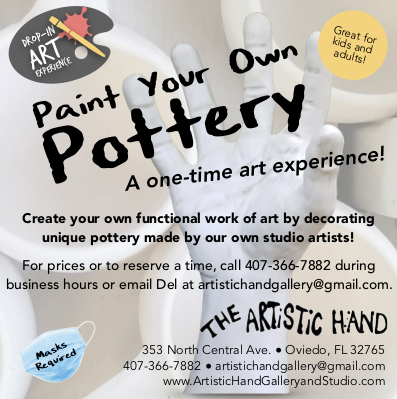 Our community of students, instructors, staff, and professional artists come together twice a year to display their beautiful art and share their work with others. Come and enjoy music, the artistic community, and pick up a few handmade gifts for the upcoming holidays. More information to come.
There are lots of great things in the works here are the Artistic Hand, but we aren't quite ready to announce them right now. Check back soon for updates!